Operating Instructions
Instructions for operating the entrance door
At the main or secondary entrance doors of buildings, the inside or the outward-opening door wings fitted with MACO door locks are controlled by a handle or a key. When closing the door leaf and locking the hardware, it is usually necessary to overcome the resistance of the seal. Improper opening and closing of the wings can lead to severe injuries and considerable property damage. Therefore:
make sure that the door leaf can be controlled by hand at a very low speed through the entire range of opening to full closing and lightly until it is seated in the frame
make sure that the wing can never open or close uncontrolled (by wind or draft).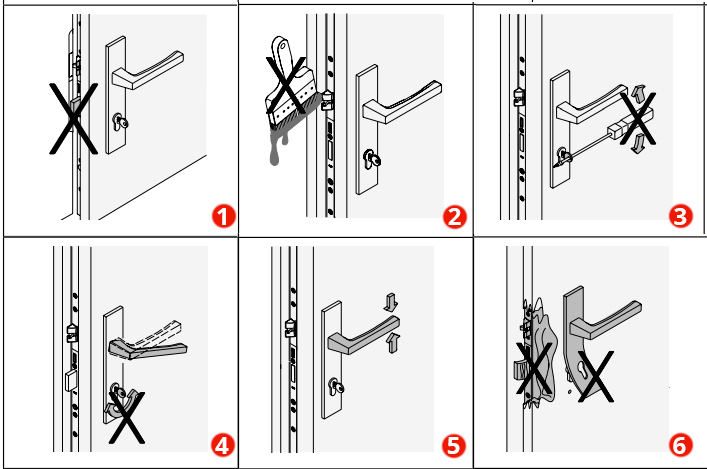 Incorrect operation
Never close the door with the plug pulled out. This would damage the plug and make it impossible to close the door.
Never paint the door hardware or its parts. Paints and varnishes penetrate into the moving parts of the fitting and prevent its proper function.
Turn the key only by hand. never use tools or other aids. Bent or bent keys will make it impossible to lock or unlock the door.
Never open with the handle and the key at the same time. This will damage the lock mechanism and make it impossible to lock or unlock the door.
Never apply excessive force to the handle. Applying a force exceeding 15 kg will damage the handle or the lock mechanism.
If you find traces of the use of violence, the lock or handle must be replaced.
Safety instructions
Never put your hands between the door and the frame when closing the door. Always proceed with caution.
Absolutely avoid hitting the door against the lining (sudden opening).
Do not place obstacles in the space between the open sash and the frame.
Do not put additional weight on the door.
Avoid the effect of wind on the door. In the event of wind and drafts, be sure to close and lock the door immediately.